Xmas Lights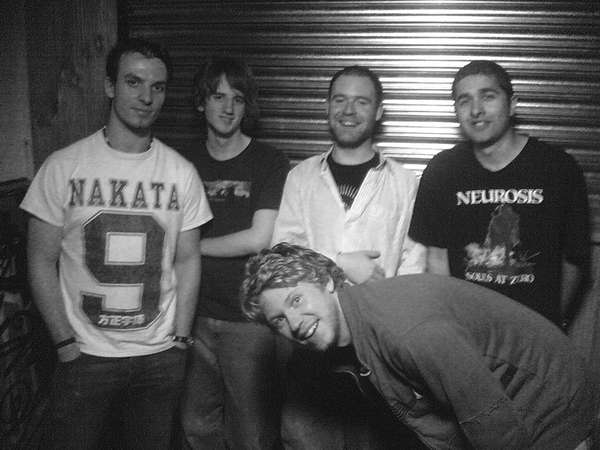 Biography
Xmas Lights were formed in Oxfordshire in early 2004 featuring ex-members of other Oxford bands Near Life Experience, Outofinto, Suffer The Fall & Vena Cava.
Taking in elements of metal, hardcore, electronica, and ambience Xmas Lights took their music to a whole new level through the sheer intensity of their live show, with band members often finding themselves scattered throughout the room or on the floor, while continuing to thrust their uncompromising musical salvo down people's throats.
Their debut recording in mid-2004 "Enron Ate My Baby" draws the listener in just six tracks and 29 minutes into a fascinating journey, beginning with an acoustic introduction before being dragged into a crushing bombardment of devastating riffs, complex beats & intense delivery from the band's dual vocal attack, interspersed with occasional melody & diverse dynamics.
Xmas Lights showed their more subtle side with tracks from the "Threat Level EP", exposing an even darker, more industrial yet still heavy side to their arsenal. The EP (featuring new drummer David McDonald) contained 3 tracks of up to 15 minutes in length, and was largely hailed by the Oxford music press.
Following "Threat Level" was their most uncompromising outing to date, the "Treading the Fine Line EP" which featured 4 songs further exploring the extremes of calculated, crushing heaviness and sublime ambience.
Further line-up changes ensued with Matthew Mooney, Charlie Cunningham and Nick Brewer taking over on bass, guitar and vocal duties respectively. After a successful tour in 2008 the band released their eponymous mini-album to rave reviews. The album featured all the elements the band were known for up to date with added electronics from Nick Brewer and featured the sprawling live favourite and epic "Electric Sheep".
Due to the inevitability of life getting in the way, the band went their separate ways in 2008. During their lifespan Xmas Lights played with Minus, Waterdown, Johnny Truant, Architects, The Vaults, Battles, Foals, Rolo Tomassi, Ghost Of A Thousand, Youthmovies and Cradle Of Filth among many others.
Members
James Gray King – Guitar
Sam Howitt – Drums (2004 – 2005)
Marco Ruggiero – Vocals (2004 – 2006)
Umair – Vocals, keys, samples
Simon Tierney – Bass (2004 – 2006)
Luke Curtis – Guitar (2004 – 2006)
David McDonald – Drums (2005 – 2008)
Matthew Mooney – Bass (2006 – 2008)
Charles Cunningham – Guitar (2006 – 2008)
Nick Brewer – Vocals, electronics, samples (2006 – 2008)